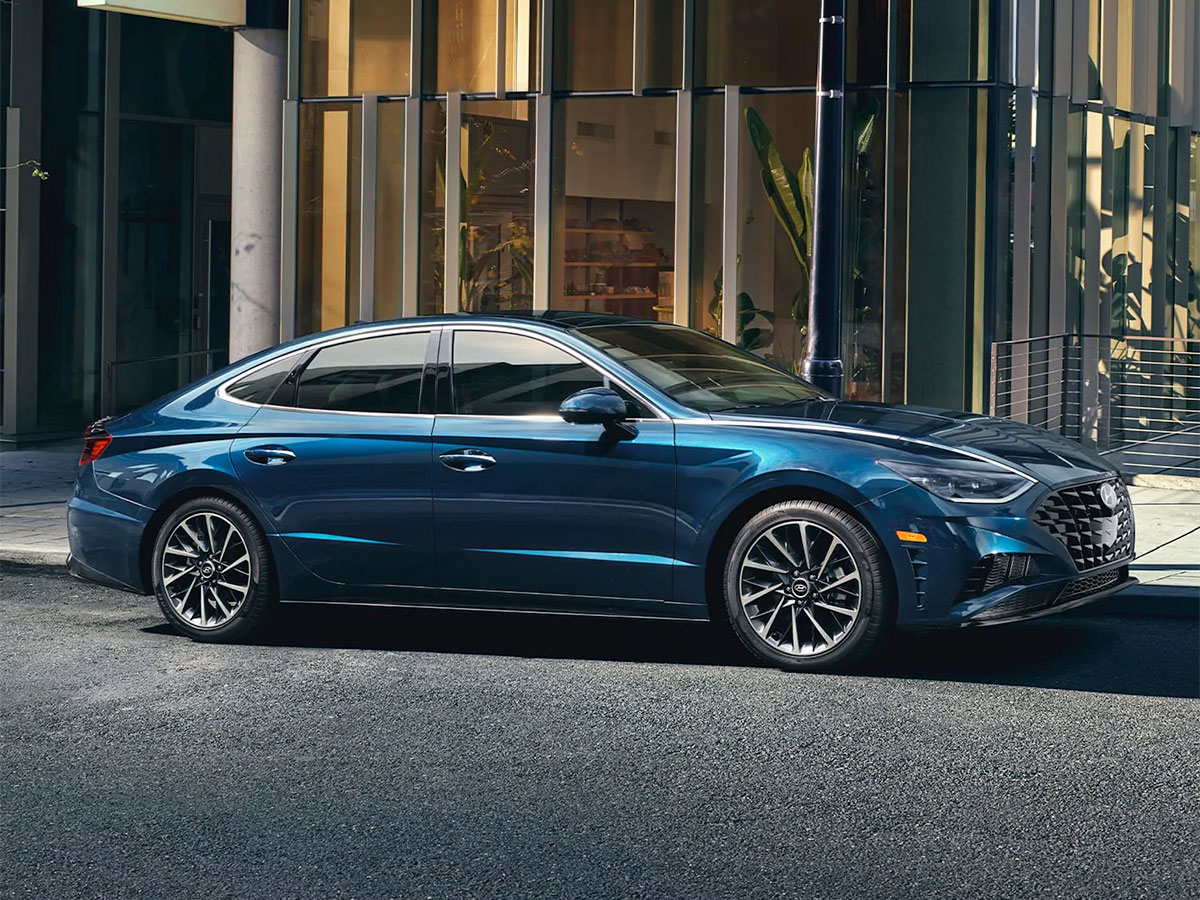 We're Your Hyundai Sonata Service Center
If you have a new or used Hyundai Sonata, you will want to protect it by getting it serviced at a center near Long Beach that you can trust. You'll appreciate the quality of service that you'll receive when you come to Downey Hyundai near Los Angeles for your maintenance and repair work. Our service technicians are top-notch at what they do, and they provide quality customer service every time. Whether you're interested in getting an oil change, brake repair, or major service, we can take care of your Sonata when you bring it to us near Puente Hills.
Hyundai Sonata Oil Change
Getting your oil change whenever it is old will ensure that you have the right stuff in your engine. Changing your oil whenever it is due is an important thing that you should do due to the fact that it keeps your engine lubricated. Our friendly service team will be able to keep you on schedule for oil changes in the future.
Hyundai Sonata Tire Sales and Services
Have you noticed that your tires have been worn down as of late? Fortunately, we provide tire sales and repair services for you whenever they are beginning to wear out. Bring your tires to us if you notice that they are beginning to wear down.
Brake Services
Your brakes are an important component of your vehicle. They allow you to decelerate safely whenever you need it the most. We can inspect and replace your brake pads to ensure that you can come to a safe stop whenever you're on the road.
Transmission Services
The transmission in your vehicle is the spark that brings life to your vehicle. Fortunately, we can help you repair and replace your transmission if it is beginning to fail. Our transmission services are designed to help you take care of your transmission optimally utilizing state of the art automotive technology.
Batteries
Making sure that your battery is taken care of will ensure that you do not become stranded on the road whenever you're driving. This is something that we actively want you to avoid if you have to take a long trip somewhere! We will test and replace your battery if need be to ensure safe travels wherever you go.
Maintenance and Repair Services That We Offer Near Downey
Naturally, you get services like an oil change. But know we also do things like checking your filters, top off your windshield wiper fluid, rotate your tires and fill them. We perform many other types of maintenance to help prolong the life of your Hyundai Sonata. We also do important services but need to be done less often, including doing transmission flushes and brake repairs. We even offer our unique expertise on your Hybrid Hyundai models.
Finding a place around Culver City to take your vehicle when you need a major repair is of utmost importance. You'll find that you can trust us when you need a transmission repair, engine replacement, or other big repair service. Otherwise, if you need something smaller but just as important, such as work on your ignition system, exhaust system, alternator, suspension, and more, trust us with your Sonata for these repairs, too.
Our Auto Techs and Their Customer Service Skills
If you're ever concerned that you won't understand what's wrong with your vehicle when you take it in for a repair, rest easy knowing that our service techs are trained to completely explain what's wrong with your vehicle. They'll also tell you what you should do in the near future to maintain your vehicle. So bring your Sonata to our service center near Downey whenever you need auto care.
Service Hours
Monday

7:00AM-6:00PM

Tuesday

7:00AM-6:00PM

Wednesday

7:00AM-6:00PM

Thursday

7:00AM-6:00PM

Friday

7:00AM-6:00PM

Saturday

8:00AM-4:00PM

Sunday

Closed